Colonic irrigation is the quickest way to a healthier, more energetic you!
Colonic irrigation involves the slow and gentle introduction of purified, energised and activated water into the colon under low pressure and controlled temperature.
This water is massaged around the colon to enable stuck waste matter to be released from the bowel wall.
Because colonic irrigation is an excellent way to remove toxins from the body, it helps many chronic conditions including:
Irritable bowel syndrome
Chronic fatigure syndrome (ME)
Bloating
Skin disorders
Obesity
It also greatly increases your energy and sense of well-being—even if you're already feeling well!
Call Deborah on 020 7411 9824 for a free phone consultation, check out our prices, or:
Click here to ask Deborah a question >>
If you've already booked an appointment, please check out these 7 tips for how to prepare for a comfortable colonic.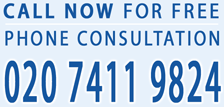 Convenient location
North London Colonics
192 Goldhurst Terrace
West Hampstead
London
NW6 3HN
Affordable
First 60-90 minute treatment is £120 (normally £135, see voucher above).
Repeat treatments are £100 (for 1hr).
See prices for more deals.
Clinic hours
Monday to Friday: 8am - 8pm
Saturday: 9am - 6pm
Experienced therapists
Deborah Laniado (CNM, ARCH, Dip. Herb) is an experienced colonic hydrotherapist with 100s of satisfied London clients.