Colonic irrigation helps with the following health conditions:
Acne
Allergies
Arthritis
Asthma
Bad Breath
Bloating
Candida
Chronic fatigue
Cramping pains
Dermatitis
Diarrhoea
Diverticulosis
Eczema
Fatigue
Flatulence
Gas
Haemorrhoids
Headaches
Halitosis
IBS
Indigestion
Irritability
Leaky gut
Lethargy
Mucous colitis
Multiple sclerosis
ME
Parasitic infections
Psoriasis
Sluggish colon
Urinary urgency
Colonic irrigation also helps improve:
Weight loss
Mental clarity
Digestion
Energy levels
Vitality
Immune system
Bowel movements
Blood stream
Skin complexion
Call Deborah on 020 7411 9824 for a free phone consultation, check out our prices, or:
Click here to ask Deborah a question >>
If you've already booked an appointment, please check out these 7 tips for how to prepare for a comfortable colonic.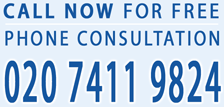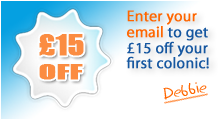 Convenient location
North London Colonics
192 Goldhurst Terrace
West Hampstead
London
NW6 3HN
Affordable
First 60-90 minute treatment is £120 (normally £135, see voucher above).
Repeat treatments are £100 (for 1hr).
See prices for more deals.
Clinic hours
Monday to Friday: 8am - 8pm
Saturday: 9am - 6pm
Experienced therapists
Deborah Laniado (CNM, ARCH, Dip. Herb) is an experienced colonic hydrotherapist with 100s of satisfied London clients.