Privacy Policy
Zero spam
We do not tolerate spam and will never sell, rent, lease or give away your information (name, address, email, etc.) to any third party. Nor will we send you unsolicited email.
Our site's registration form requires users to give us just the basic contact information (i.e., name and email address). This is used to send out free reports as well as a periodic newsletter. Users may opt out of receiving future mailings; see the choice/opt-out section below.
Financial information (such as credit card number and expiration date) is used only to charge the customer for the service they are purchasing. This will never be given to any third party (other than the credit card authorization processor) and is immediately deleted from our system once the order has been processed.
How do we protect your information?
In order to prevent unauthorized access, NorthLondonColonics.co.uk uses strict security procedures in the storage and disclosure of information which you have given to us. We take all reasonable precautions to ensure the security of personal data stored on our system.
All your personal information is password-protected - only registered users have access to their own information. As a registered user, you will be able to edit or delete your personal information details at any time using your own ID and password.
Does NorthLondonColonics.co.uk share information?
Your personal information is being provided only to NorthLondonColonics.co.uk unless we specifically state otherwise. We will not disclose your personally identifiable information to any person or company except where you have given us permission to do so or if the law requires it, or where in good faith NorthLondonColonics.co.uk believes such action is necessary to comply with a legal process.
What about cookies?
Cookies are pieces of information that an interactive service (e.g. website, digital TV) transfers to your hardware (e.g. computer, set-top box, etc.) for recordkeeping purposes. NorthLondonColonics.co.uk may use cookies where appropriate. If you are using a computer and do not wish to receive cookies you can switch them off on the browser on your computer.
Opt-out
If you would like to be removed from our database or mailing list, please let us know. If you wish to stop receiving the free keyword report, use the unsubscribe link in that report.
Contacting us
If you have any questions about this privacy statement, the practices of this website, or your dealings with this Web site, please contact privacy@northlondoncolonics.co.uk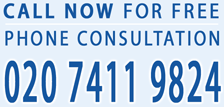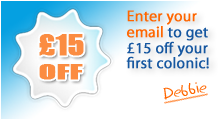 Convenient location
North London Colonics
192 Goldhurst Terrace
West Hampstead
London
NW6 3HN
Affordable
First 60-90 minute treatment is £120 (normally £135, see voucher above).
Repeat treatments are £100 (for 1hr).
See prices for more deals.
Clinic hours
Monday to Friday: 8am - 8pm
Saturday: 9am - 6pm
Experienced therapists
Deborah Laniado (CNM, ARCH, Dip. Herb) is an experienced colonic hydrotherapist with 100s of satisfied London clients.