Affordable prices for colonics
To book a colonic irrigation treatment please contact Deborah Laniado or call 020 7411 9824.
"Just one day after the session, I feel a lot clearer and more in control of my health."
Treatment
Price
Book
First colonic irrigation
(60-90 mins,

£15 discount

with voucher on right)
£85 (normally £100)
020 7411 9824
Repeat treatments
£90
020 7411 9824
Deposit
£40
3 x colonic treatments.

Costs £80 instead of £90 per treatment (save £30).
£240
020 7411 9824
6 x colonic treatments.

Costs £75 instead of £90 per treatment (save £90).
£450
020 7411 9824
10 x colonic treatments.

Costs £70 instead of £90 per treatment (save £200).
£700
020 7411 9824
Detox special
(one colonic, one live blood analysis, one far infra-red sauna, 10-day supply of detox herbs—save £50)
£180
020 7411 9824
"The experience was absolutely amazing and I felt better for it.

Debbie was extremely professional, gentle and understanding. I would definitely recommend anyone considering having a colonic to see Debbie."
Recommend a friend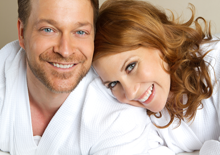 Recommend a friend to North London Colonics and get another £10 off your next session when they book in!
Terms and conditions
Please give 24 hours notice for changes to your appointment.
All deposits are non-refundable.
No financial details are stored on this website.
Call Deborah on 020 7411 9824 for a free phone consultation, check out our prices, or:
Click here to ask Deborah a question >>
If you've already booked an appointment, please check out these 7 tips for how to prepare for a comfortable colonic.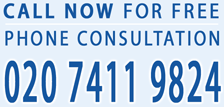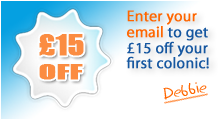 Convenient location
North London Colonics
192 Goldhurst Terrace
West Hampstead
London
NW6 3HN
Affordable
First 60-90 minute treatment is £85 (normally £100, see voucher above)
Repeats are £90.
See prices for more deals.
Clinic hours
Monday to Friday: 8am - 8pm
Saturday: 9am - 6pm
Experienced therapists
Deborah Laniado (CNM, ARCH, Dip. Herb) is an experienced colonic hydrotherapist with 100s of satisfied London clients.