Affordable prices for colonics
To book a colonic irrigation treatment please contact Deborah Laniado or call 020 7411 9824.
"Just one day after the session, I feel a lot clearer and more in control of my health."
Treatment
Price
Book
First colonic irrigation
(60-90 mins,

£15 discount

with voucher on right)
£120 (normally £135)
020 7411 9824
Repeat treatments (1 hr)
£100
020 7411 9824
Deposit
£40
3 x colonic treatments

Costs £90 instead of £100 per treatment (save £30)
£270
(valid for 18 months)
020 7411 9824
10 x colonic treatments

Costs £80 instead of £100 per treatment (save £200)
£800
(valid for 2 years)
020 7411 9824
1 x infrared sauna (1hr)
£40
020 7411 9824
10 x infrared sauna (1hr)
£350
020 7411 9824
Detox special
(one colonic, one far infra-red sauna, 10-day supply of detox herbs—save £50)
£250
020 7411 9824
"The experience was absolutely amazing and I felt better for it.

Debbie was extremely professional, gentle and understanding. I would definitely recommend anyone considering having a colonic to see Debbie."
Recommend a friend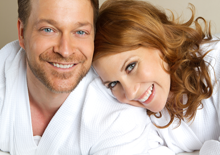 Recommend a friend to North London Colonics and get another £10 off your next session when they book in!
Terms and conditions
Please give 48 hours notice for changes to your appointment.
Deposits will not be returned if cancellation is less than 48 hours from a booked appointment.
No financial details are stored on this website.
Parking permits can be purchased for £2.50 per hour.
Longer sessions are available and charged pro-rata.
Call Deborah on 020 7411 9824 for a free phone consultation, check out our prices, or:
Click here to ask Deborah a question >>
If you've already booked an appointment, please check out these 7 tips for how to prepare for a comfortable colonic.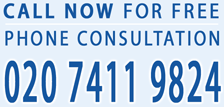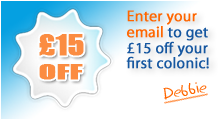 Convenient location
North London Colonics
192 Goldhurst Terrace
West Hampstead
London
NW6 3HN
Affordable
First 60-90 minute treatment is £120 (normally £135, see voucher above).
Repeat treatments are £100 (for 1hr).
See prices for more deals.
Clinic hours
Monday to Friday: 8am - 8pm
Saturday: 9am - 6pm
Experienced therapists
Deborah Laniado (CNM, ARCH, Dip. Herb) is an experienced colonic hydrotherapist with 100s of satisfied London clients.