Deborah Laniado
Deborah Laniado trained in colonic irrigation at the Anne McDevitt Clinic in Dublin, Ireland and also has a naturopathic dimploma from the College of Naturopathic Medicine, CNM, Dip. Herb.
Deborah has dedicated her life to improving people's health long term, and takes great pride in helping 100s of clients get results.
Formal training
Date
Place
Course
2008-2009
Sivananda Yoga
Kerala, India
Yoga Teachers Training Course
2004-2008
College of Naturopathic Medicine
Naturopathic & Herbal Medicine Diploma
CNM, Dip. Herb
2007
Dr. Sanjay Chaudhuri
Chi Center
Maidenhead, Berkshire
Qualifying in Live Blood Microscopy with Dr. Sanjay Chaudhuri, former research doctor at Guys Hospital.
2004
Anne McDevitt Clinic
Dublin, Ireland
Diploma in Colonic Irrigation
Skills
Herbal medicine
Nutrition
Colonic irrigation
Detoxification
Live blood analysis
Yoga
Pilates
Lin G. Doyle
MBA RSHom PGDip BANT ARCH CNHC (Naturopathy)
Lin has had an almost lifelong involvement in health after surgery in her early 20s left her with the same problems as before. She regained her health after using homeopathy and naturopathy.
Since then she qualified as a Homeopath and has added to her expertise with Post-Graduate Diplomas in Homeopathy, Nutrition, and Colon Hydrotherapy.
She is a registered member of the Society of Homeopaths, the British Association of Applied Nutrition and Nutritional Therapy (BANT), the Association of Registered Colon Hydrotherapists (ARCH), and the Complementary and Natural Healthcare Council (CNHC) in Naturopathy.
This on-going professional development and research enables her to give bespoke treatment strategies to her patients, facilitating them to restore their health and equilibrium according to individual needs and lifestyles. Her areas of expertise are in detoxification, digestive health, and gluten intolerance.
Lin is currently training to be a Raw Food Coach.
Skills
Homeopathy
Clinical & Evolutionary Nutritionist
Colon Hydrotherapist
SCENAR Pain Practitioner
Why am I offering this service?
Colonic irrigation is an integral part of Naturopathic Medicine, which encourages and promotes the body's natural self-healing mechanisms.
I also used the treatment as part of my own healing process and found it a very effective way to rebalance my own body, speeding up my recovery.
Call Deborah on 020 7411 9824 for a free phone consultation, check out our prices, or:
Click here to ask Deborah a question >>
If you've already booked an appointment, please check out these 7 tips for how to prepare for a comfortable colonic.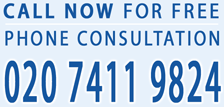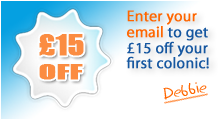 Convenient location
North London Colonics
192 Goldhurst Terrace
West Hampstead
London
NW6 3HN
Affordable
First 60-90 minute treatment is £120 (normally £135, see voucher above).
Repeat treatments are £100 (for 1hr).
See prices for more deals.
Clinic hours
Monday to Friday: 8am - 8pm
Saturday: 9am - 6pm
Experienced therapists
Deborah Laniado (CNM, ARCH, Dip. Herb) is an experienced colonic hydrotherapist with 100s of satisfied London clients.